Educational Institutions
In 2014, at least 5 colleges in the US reported larger data breaches than the notorious Sony hack.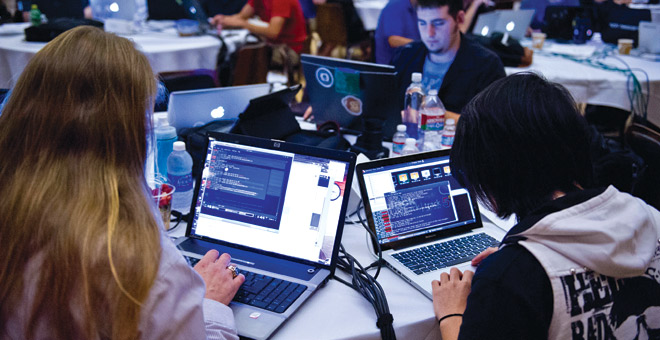 Protecting schools and colleges against cyber crimes.
---
According to information from the massive database maintained by Privacy Rights Clearinghouse on data breaches, 30 educational institutions experienced data breaches in 2014. Five of the thirty schools actually had larger data breaches than the notorious Sony Hack. The leading cause was from hacking or malware.
In March 2014, more than 300,000 student, faculty and staff records were compromised at University of Maryland.

Kyle McCarthy Huffington Post, 01/15/2015 issue
The causes of the breaches varied widely, although hacking appears to be the most common and destructive. The University of Maryland and North Dakota breach was caused by database hackers. Riverside Community College's data breach was the result of an employee inadvertently emailing a file to the wrong email address. At Orangeburg-Calhoun Technical College, an unencrypted laptop computer was stolen.
In most cases, the information exposed included Social Security numbers, birth dates, addresses and other data of current and former students, faculty and staff.
This information gives criminals the ability to commit identity theft and fraud. With the vast number of students passing through any one university, data breaches in higher education facilities prove to be a lucrative payoff for fraudsters.
Schools face hefty IT bills, a tarnished reputation, a mountain of bad press and backlash from students, staff and alumni. With the average cost to a higher education institution standing at $4 million, it's vital that organizations remain educated about data breaches and cybersecurity.
Silent Breach helps schools and colleges detect, respond and prevent to cyber attacks from the inside as well as from the outside.
Our most relevant services for schools and colleges: